Superfine Impact Mill
Applications of Superfine Impact Mill LHJ
Our superfine impact mills, which are primarily used for particle shaping, calcined material scattering, etc., are extensively used in industries like nonmetal mining, chemical engineering, building material manufacturing, food and feedstuff manufacturing, etc.
Features of Superfine Impact Mill LHJ
Low energy consumption: Our superfine impact mills integrated the functions of centrifugal mill, impact grinding mill, etc. together, thus enable a higher crushing capability and lower energy consumption;
High fineness: LHJ series impact mills are equipped with self-diffluent classification system; product fineness: ≥2500 mesh.
Suitable for milling materials with a wide range of size: ≤50mm.
Wear-resistance: the wearing parts of our impact mills are made of wear-resistance composite materials, which feature long service life and have no pollution to materials while the Mohs hardness of the material is lower than 5.
Stable mechanical performance: our superfine impact crusher can work continuous for 24 hours without stop.
Complete functions:


(1) suitable for crushing spiculate materials and produced product L/D could be 15:1.

(2) No temperature rise during milling process, as a result the superfine grinding mill is suitable for thermosensitive material crushing.

(3) Calcined material scattering is possible.

(4) Particle shaping function is available and can help improve bulk density.

(5) Our superfine impact mill is also suitable for grinding fibre texture materials.

(6) Equipped with material drying function, as a result, the impact mill is also suitable for grinding materials with high water content.

(7) Suitable for grinding high viscosity materials.

No dust pollution for negative pressure production.
High automation, simple operation and stable performance.
Working Principle of Superfine Impact Mill LHJ

Our superfine impact mills have similar working principles to our superfine ball mill production lines and jet mills:

After roughly crushed, materials are fed into milling chamber;
Milling: when the chamber is rotating at high speed, the great impact force generated between materials and rotary parts helps realize superfine grinding.
Classification for coarse and fine powders;
Qualified powders will be collected by cyclonic collectors and unqualified powders will be ground for the second time. Filtered air will be discharged by induced draft fans.
Parameters of Superfine Impact Mill LHJ
| | | | | | | | |
| --- | --- | --- | --- | --- | --- | --- | --- |
| Model \ Data | LHJ-20 | LHJ-50 | LHJ-70 | LHJ-150 | LHJ-260 | LHJ-500 | LHJ-750 |
| Feed size(mm) | ≤10 | ≤10 | ≤30 | ≤30 | ≤30 | ≤30 | ≤30 |
| Fineness(um) | 4~200 | 4~200 | 4~200 | 4~200 | 4~200 | 4~200 | 4~200 |
| Capacity(t/h) | 0.05~0.6 | 0.1~1.2 | 0.25~3 | 0.5~6 | 1~15 | 1.5~25 | 2.5~40 |
| Main power (kw) | 11~15 | 22~30 | 37~45 | 75~90 | 132-160 | 220-250 | 315-355 |
Process Flow of Superfine Impact Mill LHJ
Flow Chart I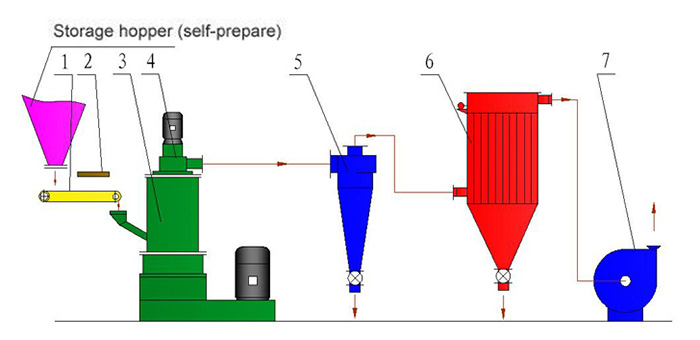 1. Variable frequency controlled feeding system
2. Magnetic separator
3. Main machine of grinding mill
4. Classifier
5. Cyclonic collector
6. Pulsed dust collector
7. Induced draft fan
Flow Chart II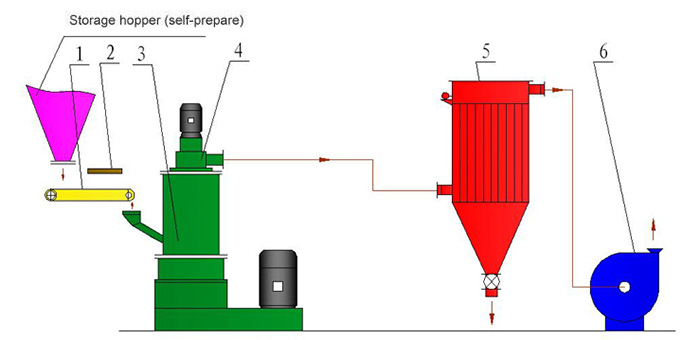 1. Variable frequency controlled feeding system
2. Magnetic separator
3. Main machine of impact mill
4. Classifier
5. Pulsed dust collector
6. Induced draft fan
Flow Chart III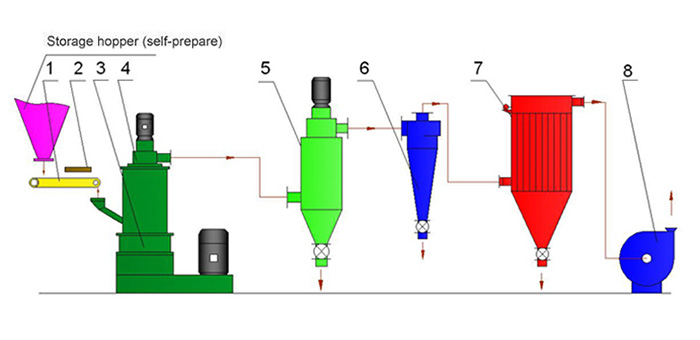 1. Variable frequency controlled feeding system
2. Magnetic separator
3. Main machine of impact grinding mill
4. Classification system
5. Classifier
6. Cyclone collector
7. Pulse bag-type collector
8. Induced draft fan
Flow chart IV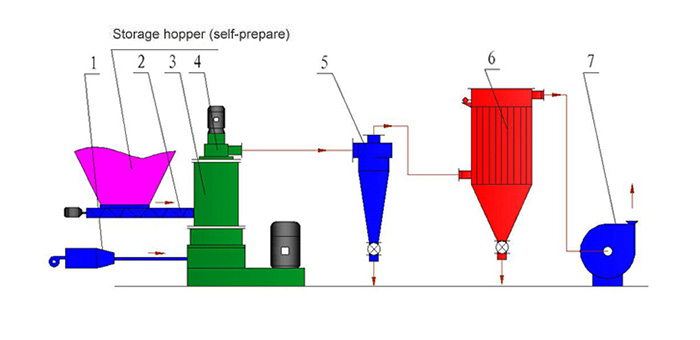 1. Air heating installation
2. Material feeding system
3. Main machine of superfine impact mill
4. Classification system
5. Cyclonic collector
6. Bag type dust collector
7. Induced draft fan
Flow chart V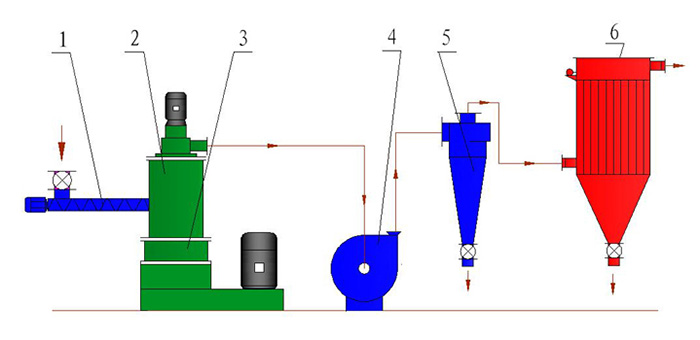 1. Material feeding system
2. Classification system
3. Main machine of superfine impact mill
4. Induced draft fan
5. Cyclonic collector
6. Pulsed dust collector
Work site
LHA carton steel
LHA stainless steel