Wood Flour Mill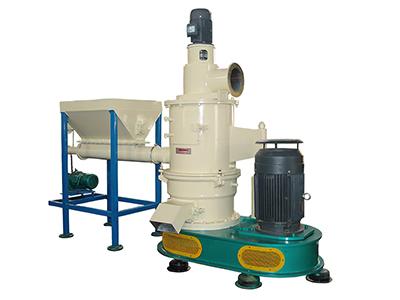 Applications of Wood Flour Mill LHK
Our wood flour mills are primarily used for superfine grinding of fiber texture material and sawdust, etc. As a kind of impact mill, it can also be used for pulverizing of non-metallic materials, feeds, agricultural products, and chemical products, etc. (Note: the Mohs hardness of those materials should be lower than 6).
Features of Wood Flour Mill LHK
Energy saving: our wood flour mills can save as much as 30%-40% energy comparing with traditional grinding mills.
Superfine grinding: finished product fineness could be 600mesh because our wood flour grinding mills are equipped with high precision classifiers.
Material fineness is adjustable.
Long service life: wear resistance materials are adopted for making wearing parts.
User-friendly design enables a convenient clean and maintenance.
Negative pressure production guaranteed a better production environment.
Working Principle of Plastic Pulverizer LHD
Firstly feed material into grinding chamber, and then they will be pulverized under the shearing force generated between high speed rotary rotor disc and stator disc.
Finished powders will be sent to collection system.
Working Principle of Wood Flour Mill LHK
After materials are fed into milling chamber, they will be pulverized under the shear force and extrusion force generated between grinding roller and grinding ring. And classifiers on the top of these impact mills will collect qualified powders.
Parameters of Wood Flour Mill LHK
Item \ Model
LHK - 40
LHK - 60
LHK - 90
Max. material size
Sawdust
5-15 mesh
Granules
≤20mm
Finished product size
Sawdust
100-600 mesh
Granules
100-1250 mesh
Max. Production capacity
Sawdust
200kg/h
300kg/h
400kg/h
Granules
700 kg/h
1000kg/h
1500kg/h
Main motor power
22kw
30kw
45kw
Process Flow of Wood Flour Mill LHK
Flow Chart I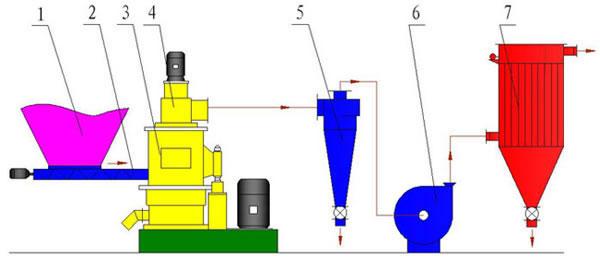 1. Storage hopper
2. Screw conveyor for material feeding
3. Main machine of wood flour mill
4. Classifier
5. Cyclonic collector
6. Induced draft fan
7. Pulsed dust collector
Flow Chart II

1. Storage hopper
2. Screw conveyor for material feeding
3. Main machine of wood flour grinding mill
4. Classifier
5. Cyclonic collector
6. Pulsed dust collector
7. Induced draft fan
Work site