Roller Mill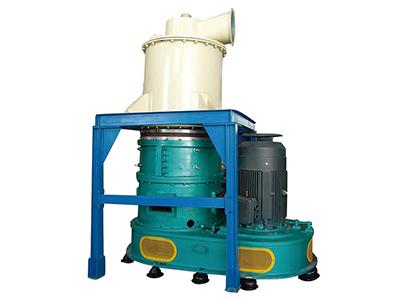 Features of Roller Mill LHG
Lower energy consumption for producing the same amount of materials.
High fineness: our roller mills are equipped with high precision classification system, which help guarantee high product fineness.
And the particle size distribution of finished product is adjustable.
This impact mill is suitable for grinding materials with wide range of size: 325mesh-2,500mesh are all possible.
Wear-resistance: the wearing parts for our roller mills are made of wear-resistance composite materials, which feature longer service life.
Intelligent operation control guarantees a simple operation and stable performance.
Environmentally friendly: the main machine adopted vibration-reduction and noise-cancellation technology; and negative pressure production process effectively avoided dust pollution.
Applications of Roller Mill LHG

Our roller mills are primarily used for superfine grinding of various dry powder materials. This kind of grinding mill is extensively used in industries like nonmetal mining, chemical engineering, building material production, metallurgic, new material manufacturing, and food production, etc.
Fibre texture material (Chinese medicine and wood powder, etc.) grinding are also possible.

Working Principle of Roller Mill LHG

Roller mill LHG has the similar working principle to superfine impact mill and jet mill:

Feeding and grinding: After the materials are fed into milling chamber, they will be ground into superfine powders by grinding roller.
Classification: relatively coarse and fine powders will be separated from each other under the centrifugal force of classification impellers and the draft force of induced draft fans.
Collection: Qualified products will be collected and unqualified products will re-enter into milling chamber for second time grinding.
Cleaned air will be discharged by induced draft fans.

Parameters of Roller Mill LHG
| | | | | | |
| --- | --- | --- | --- | --- | --- |
| Data \ Model | Feed size(mm) | Moisture(%) | Fineness(um) | Capacity(t/h) | Main power(kw) |
| LHG-150 | <10 | <10 | 5-75 | 0.7-6 | 75 |
| LHG-300 | <10 | <10 | 5-75 | 1.5-12 | 110 |
| LHG-450 | <10 | <10 | 5-75 | 2.3-19 | 160 |
Process Flow of Roller Mill LHG
Flow Chart I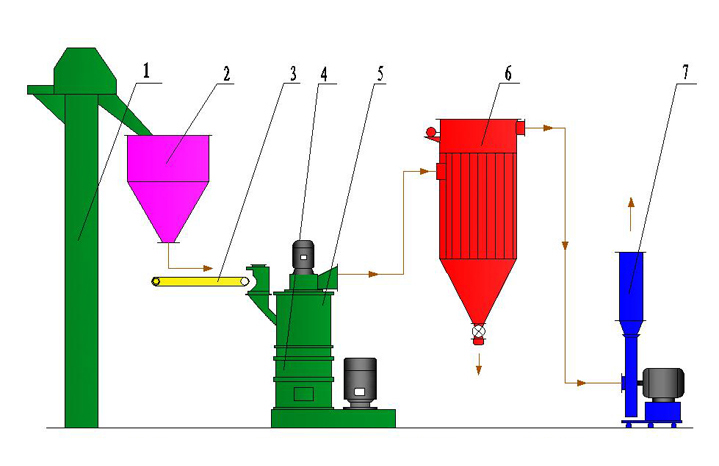 1. Hoisting machine
2. Storage hopper
3. Variable frequency controlled feeding system
4. Main machine of powder grinding mill
5. Classification system
6. Pulse bag-type collector
7. Induced draft fan
Flow Chart II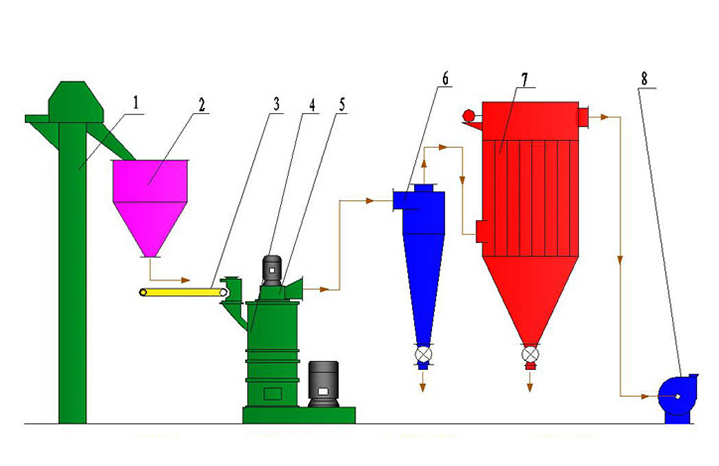 1. Hoisting machine
2. Storage hopper
3. Variable frequency controlled feeding system
4. Main machine of vertical roller mill
5. Classification system
6. Cyclonic collector
7. Pulsed dust collection
8. Screw conveyor for material feed back
9. Induced daft fan
Flow Chart III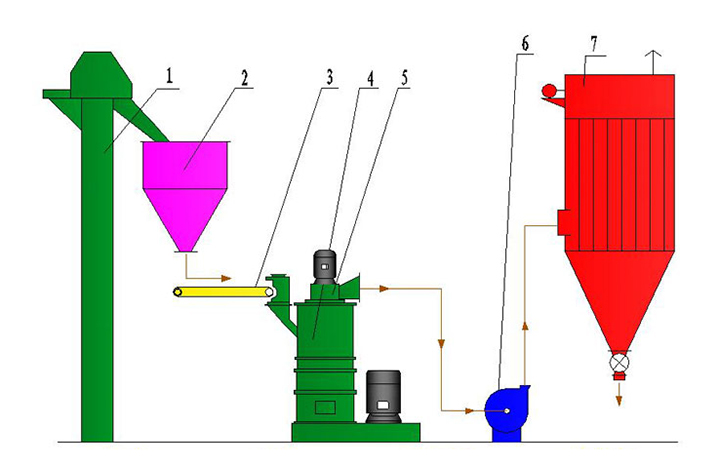 1. Hoisting machine
2. Storage hopper
3. Variable frequency controlled feeding system
4. Main machine of roller mill
5. Classification system
6. Induced draft fan
7. Pulse bag-type collector
Flow chart IV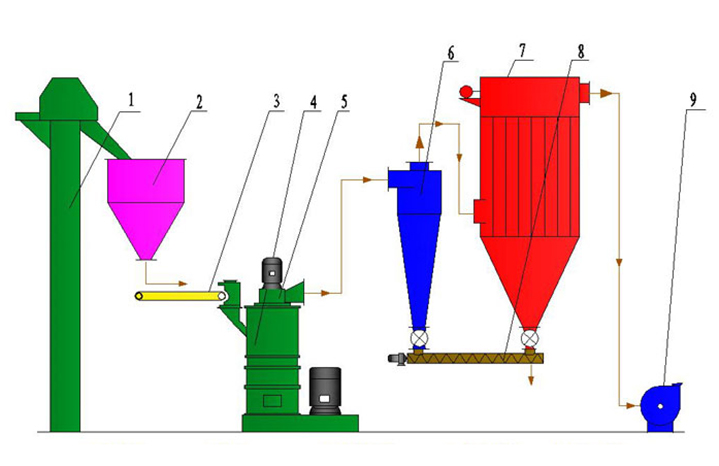 1. Hoisting machine
2. Storage hopper
3. Variable frequency controlled feeding system
4. Main machine of grinding mill
5. Classification system
6. Cyclonic collector
7. Dust collector
8. Induced draft fan
Work site