Plastic Pulverizer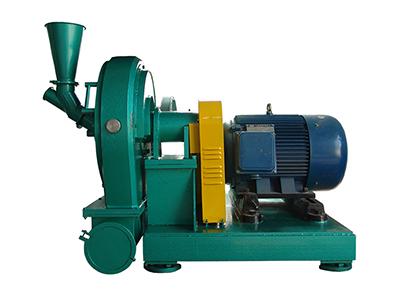 Applications of Plastic Pulverizer LHD
LHD series plastic pulverizer is mainly used for grinding thermosensitive materials (Mohs hardness: 3), including PVC, PE, PET, PC, LDPE, HDPE, EVA, etc., which feature with high elasticity and impact-resistance. Just because this plastic pulverizer is widely used for pulverizing PVC and PE, it also called as PVC pulverizer or PE pulverizer.
This impact mill is extensively used in fields like powder spraying, plastic extrusion, etc.
Features of Plastic Pulverizer LHD
Low energy consumption and no temperature raising during pulverizing process;
The plastic pulverizer can produce powders in different fineness by adjusting the distance between rotor disc and stator disc.
If equipped with vibrating screen and air classifier, our plastic pulverizer will be able to produce ultra-fine powders. Unqualified powders will return to milling chamber for second time grinding.
Negative pressure operation and positive pressure operation, normal temperature grinding and cryogenic grinding, etc. are all available for grinding different kinds of materials.
Stable mechanical performance, simple operation and convenient maintenance.
Working Principle of Plastic Pulverizer LHD
Firstly feed material into grinding chamber, and then they will be pulverized under the shearing force generated between high speed rotary rotor disc and stator disc.
Finished powders will be sent to collection system.
Working Principle of Vortex Mill LHW
The rotor of this grinding mill is composed of several grinding disc and blades. While the rotor is rotating at extremely high speed, it realizes crushing and pulverizing for materials. And the air stream, which is generated for the high speed rotation of rotor, will also help crush and pulverize materials.
Parameters of Plastic Pulverizer LHD
| | | | | |
| --- | --- | --- | --- | --- |
| Data \ Model | Main power(kw) | Feed size(mm) | Fineness | Capacity |
| LHD-100 | 45 | <5mm | 20-500mesh | 50-1000kg/h |
| LHD-200 | 90 | <5mm | 20-500mesh | 100-2200kg/h |
Process Flow of Plastic Pulverizer LHD
Flow Chart I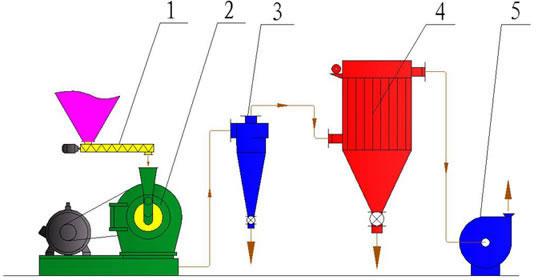 1. Feeding system
2. Main machine of grinding mill
3. Cyclonic collector
4. Pulsed dust collector
5. Induced draft fan
Flow Chart II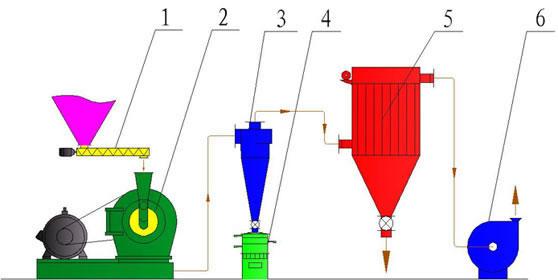 1. Feeding system
2. Plastic pulverizing system
3. Cyclonic collector
4. Vibrating screen
5. Pulsed dust collector
6. Induced draft fan
Flow Chart III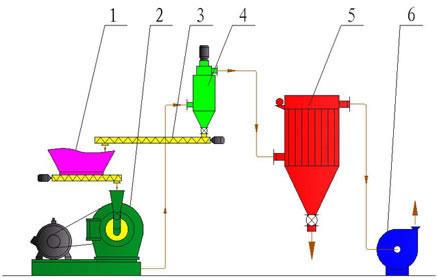 1. Material feeding system
2. Plastic pulverizing system
3. Screw conveyor for material feed back
4. Classification system
5. Pulsed dust collector
6. Induced draft fan
Cryogenic grinding flow chart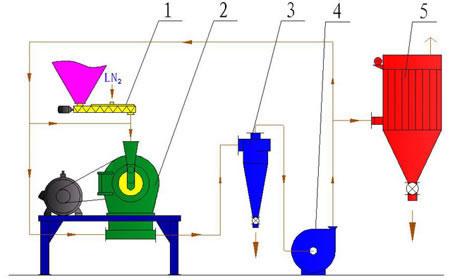 1. Pre-cooling system (also functioned as screw conveyor for feeding material)
2. Powder grinding system
3. Cyclonic collector
4. Induced draft fan
5. Pulse bag type dust collector
Work site