Fluidized Bed Jet Mill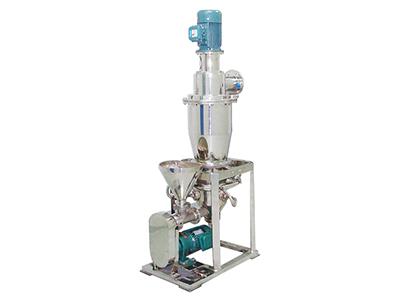 Features of Fluidized Bed Jet Mill LHL
LHL series fluidized bed jet mills are not only suitable for superfine comminution of low-melting-point and thermosensitive materials, but also suitable for sugar-contained and volatile substances.
Finished products with a size from 3 to 180um could all be obtained.
Fluidized bed jet mills with a production capacity from 5 to 3,000kg/h are all available.
Parameters of Fluidized Bed Jet Mill LHL
| | | | | | | | |
| --- | --- | --- | --- | --- | --- | --- | --- |
| Model \ Data | LHL-3 | LHL-6 | LHL-10 | LHL-20 | LHL-40 | LHL-60 | LHL-120 |
| Feed size (Mesh) | ≤ 20 | ≤ 20 | ≤ 20 | ≤ 20 | ≤ 20 | ≤ 20 | ≤ 20 |
| Fineness(d97=um) | 2-150 | 2-150 | 2-150 | 2-150 | 2-150 | 2-150 | 2-150 |
| Capacity (kg/h) | 15~100 | 40~250 | 90~500 | 200~1100 | 500~2500 | 750~4000 | 1500~8000 |
| Air consumption(m3/min) | 3 | 6 | 10 | 20 | 40 | 60 | 120 |
| Air pressure(MPa) | ≥0.8 | ≥0.8 | ≥0.8 | ≥0.8 | ≥0.8 | ≥0.8 | ≥0.8 |
| Installed power (kw) | 27.5 | 53 | 75 | 159 | 300 | 440 | 830 |
Process Flow of Fluidized Bed Jet Mill LHL
Flow Chart I

1. Air compressor
2. Air storage tank
3. Freeze drying machine
4. Feeding System
5. Main machine of jet grinding mill
6. Cyclonic collector
7. Pulsed dust collector
8. Induced draft fan
Flow Chart II

1. Air compressor
2. Air storage tank
3. Freeze drying machine
4. Feeding System
5. Main machine of jet mill
6. Pulsed dust collector
7. Induced draft fan
Flow Chart III

1. Air compressor
2. Air storage tank
3. Freeze drying machine
4. Feeding System
5. Main machine of grinding mill
6. Classifier I
7. Classifier II
8. Cyclonic collector
9. Bag filter
10. Induced draft fan
Explosive Prevention Flow Chart

1. Nitrogen generator
2. Air storage tank
3. Electromagnetic valve (contains directional valve)
4. Nitrogen compressor
5. Freeze drying machine
6. Deoiler
7. Pressure distributor
8. Closed type feeding system
9. Jet mill and classifier
10. Cyclonic collector
11. Bag filter
Work site